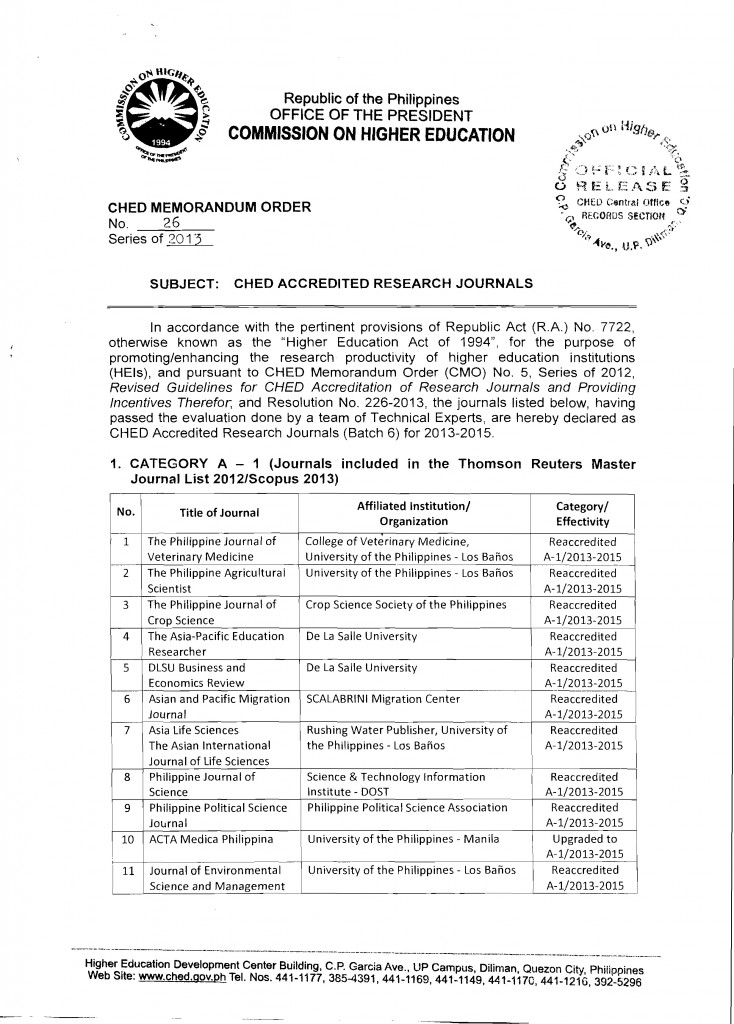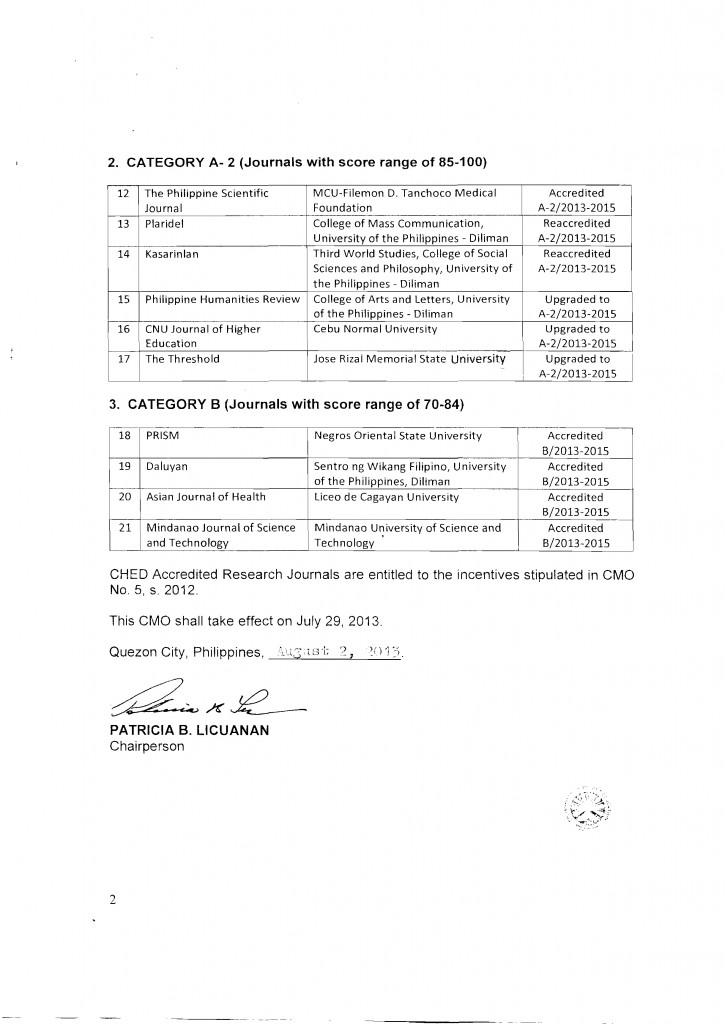 =====================================================================================================================================================
Liceo World Researcher Won as CMU Outstanding Alumni 2013

Dr. Lesley Casas Lubos was awarded as Central Mindanao University 2013 Outstanding Alumni Silver Jubilarian(Education Category)on September 12, 2013 at the University Convention Center, Musuan , Bukidnon during the 103rd Foundation Anniversary and Alumni Homecoming. He is an educator, researcher, and community advocate, who currently serves as the Associate Professor and the Associate Research Director of Liceo Mindanao Center for Biodiversity and Conservation (LIMCEBCON), Research and Publication Office, Liceode Cagayan University in Cagayan de Oro City. He has been employed since June 1995 and has been teaching for 20 years in the undergraduate and graduate levels in various courses in Research (Biology, Nursing, Criminology, Radiologic Technology), Plant and Animal Taxonomy, Marine and Freshwater Ecology and Conservation, Limnology, Marine Biology, Physiology, General Ecology, General Botany, General Zoology, Introductory Biology, Environmental Planning, Hazardous Waste Management, and Water Quality Management.
He finished his elementary education in Valencia City Central Elementary School in March 1984. His secondary education in Central Mindanao University High School was obtained in March 1988 at Musuan Bukidnon. He graduated his Bachelor's degree in Biology at Xavier University, Ateneo de Cagayan on March 21, 1992.He finished his Master's degree in Biology, Central Mindanao University on November 4, 1994. He obtained his Doctoral degree in Biology in Central Mindanao University on March 31, 2000 under the Commission on Higher Education Scholarship Grant.
He brought honors to Liceo by achieving international, national, and local awards in the areas of research, leadership, editorship, and community service. He is active in the Mosquito Dengue Fighters Association of the Philippines, the Oro River scientific research and advocacy, and the raising of ecological awareness of the students and settlers along the river banks. He has traveled to Asia, Europe, and USA for research lectures, workshops and educational experiences.
For instructional materials, he has made 46 modules. He translated his scientific studies to instructional materials. He produce publications most of these are already in the orcid.org and crossref data base and are circulated around the world through 12 indexing companies. He has 14 International travel grants; 11 original creative outputs for pedagogical and advocacy purposes; 15 original innovative teaching approaches; and, 125 involvements in co-curricular activities in various capacities as editor-in-chief, peer reviewer, research adviser, judge of various contests, team leader of research, panel member of oral research defenses, consultant to research papers and projects, chair and co-chair of committees in the areas of research, environment advocacy, arts and culture.
He has taken advanced training in the Philippines, Singapore, Indonesia, Thailand, and USA which are related to biodiversity and conservation. These enhanced his research and teaching expertise. He has 204 professional involvements as lecturer, resource speaker, country paper presenter, head, and participant in the Philippines and abroad.
He has 12 professional organizations as officer and member and 3 organizations in which he engaged in community and civic movements.
He is the editor-in-chief of the Asian Journal of Biodiversity (Institute of Scientific Information of Thomson Reuters (ISI) Journal) and member of the Editorial Board International Journal of Biology (IJB) Canadian Center of Science and Education in Canada, also an ISI Journal.
He has 6 professional/community service awards such as Asian Green Leadership Award 2013- conferred by the International Association of Multidisciplinary Research in Jakarta, Indonesia; the Outstanding World Research Leader 2013 in Cebu City;Asia's Best Journal Editor 2012 in Kuala Lumpur, Malaysia;Exemplary Achievement Award 2012 by the Sangguniang Panlungsod City of Valencia; International Research Achievement Award 2010 by the Commission on Higher Education ( CHED), Region 10 in Cagayan de Oro City; and,one of the TEN OUTSTANDING FILIPINO RESEARCHERS 2009 awarded by the Philippine Association of Institutions for Research (PAIR) in Boracay Island.
Currently, he is one of the National Finalists of the Metrobank Outstanding Teachers of the Philippines. He is the first finalist from the higher education level from Cagayan de Oro City and the first awardee from Liceo de Cagayan University.
He is the youngest son of the late Ramon Morante Lubos, a retired Assistant Assessor of Valencia City Assessors Office and Former Yolanda Zamora Casas, a retired public elementary teacher in Valencia City Elementary School.
His older sister Dr. Lalevie C. Lubos, is an alumna of CMU High school and College of Arts and Sciences and Liceo de Cagayan University in her Doctor in Management, he is a faculty member of Bukidnon State University, Malaybalay City. His older brother, Dr. Lloyd C. Lubos, an alumnus of CMU High school and College of Agriculture and Liceo de Cagayan University, is a Farm Manager in Invercargill, New Zealand. His sister in law is Elena Florendo of Valencia City and niece, Marivelle Jorryn.
His character is revealed in his simple ways of living, good religiosity as a practicing Catholic which has been nurtured by his late father who was an officer of the Knights of Columbus (K of C) and mother, who is an officer of the Catholic Women's League. He is loved by many and respected as a teacher by his colleagues and students.
His contribution to nation building is geared towards teaching for the protection, preservation and conservation of the environment considering the devastation brought forth by calamities due to climate change and destruction of mother nature due to people'sgreed. He said that" There is no nation to build if there is no territory to build on".
His main sources of fulfillment as a teacher are his students by seeing them succeed in earning a degree, the difference they made in their lives, and their contribution to the society.
His unique way of fusing science and art to make his students love to learn is not only by heart but by deed and by patiently recognizing their skills and interest to make learning easier for them and making himself available always to guide them.
The strong influence of his mother as a teacher has been attributed in his choice of teaching as a profession. He grew up in school, nursed by his mother in school, slept in his mother's classroom and practically spent a lot of time in his life in school ever since he was a baby.
He said "teaching profession is a tough one, but if you have developed the passion for teaching it is the hardest profession to let go even if you have already retired. I have acquired that passion already in me. Teaching is embedded not only in my whole being but in my whole system and existence".
He wanted to be remembered as a modern day hero who lives to teach the young generations the value of life and the value of taking care of the place they live in.
His teaching philosophy is summed up as:"Learning is a political choice of the students and teaching is a political strategy to influence the students learning."
=====================================================================================================================================================
Dr. Lubos Wins Outstanding CMU Alumni Award 2013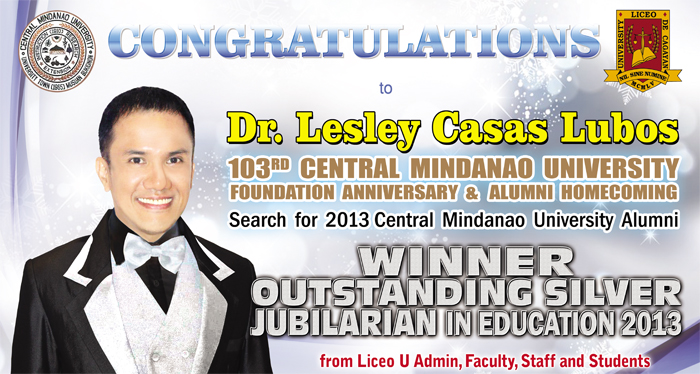 =====================================================================================================================================================
Dr. Lubos clinches National Finalist in Metrobank's Outstanding Teachers Tilt